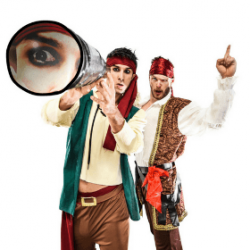 Arr We There Yet?
The Spiegeltent
Laufzeit: 60 minutes
Eintrittskarten

buchen
Show beendet
Diese Show ist jetzt beendet.
A riproaring and swashbuckling adventure in which three sailors hit the high seas in search of treasure!
A scallywag pirate, a muscular sailor and a chef with a seafood allergy make for a hopeless crew as they fight for the title of Captain aboard the ship. These acrobatic pirates turn ship-life upside down. Walking the plank becomes the high flying teeterboard, cooking for the crew involves juggling knives and steering the ship spinning upside down in the roue cyr.
Amazing acrobatics and hilarious slapstick comedy for the whole family, presented by the incredible Head First Acrobats.
Verwenden Sie das Suchfeld in der Navigationsleiste, um für Arr We There Yet? die Verfügbarkeit von Eintrittskarten zu prüfen.
London
Box Office

Versprechen
Bei der Buchung Ihre Sitze auswählen
Sichere Online-Reservierungen
100% garantierte Lieferung des Ticket
Keine versteckten Gebühren.

Theater Adresse
The Spiegeltent
Jubilee Gardens, off Belvedere Road, London, SE1 8XX GB