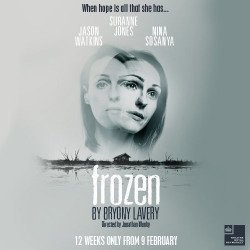 Frozen
Theatre Royal Haymarket
Buchung von: Freitag, 9 Februar 2018
Buchung bis: Samstag, 5 Mai 2018
Eintrittskarten
ab 20,49€
Eintrittskarten

buchen
Vorstellungszeiten
Mon
Tue
Wed
Thu
Fri
Sat
Sun
15:00
15:00
19:30
19:30
19:30
19:30
19:30
19:30
Altersbeschränkung
Suitable for age 15+. The play contains very strong language and content that some may find disturbing.
Buchung von:
Freitag, 9 Februar 2018
Buchung bis:
Samstag, 5 Mai 2018
Verwenden Sie das Suchfeld in der Navigationsleiste, um für Frozen die Verfügbarkeit von Eintrittskarten zu prüfen.
London
Box Office

Versprechen
Bei der Buchung Ihre Sitze auswählen
Sichere Online-Reservierungen
100% garantierte Lieferung des Ticket
Keine versteckten Gebühren.

Theater Adresse
Theatre Royal Haymarket
8 Haymarket, London, SW1Y 4HT GB
Gelegenheit
Luftgekühlt
Bar
Behindertengerechte Toiletten
Infrarot-Kopfhörer (Hörschleife)
Mitglied des
Toiletten
Rollstuhlzugang
Theater Info
Kapazität: 880
Gebaut in: 1720
Nächste Aufführungen