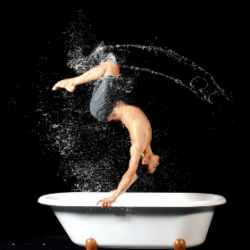 SOAP
The Spiegeltent
Laufzeit: 70 minutes
Eintrittskarten

buchen
Show beendet
Diese Show ist jetzt beendet.
Having captivated audiences around the globe, the sell-out, smash-hit show SOAP makes a splash on London's Southbank.
Featuring a highly skilled international ensemble, SOAP is a unique combination of world-class acrobatics, comedy and live opera performed in, on and around bathtubs.
Bubbling over with mind-boggling circus skills, from aerial straps to foot juggling, dance trapeze to hand balancing, alongside rubber ducks, hilarity and a frothy soundtrack.
Jaw dropping, sexy and hilarious, bath time will never be the same again.
Suitable for all ages... It's good clean fun!
Verwenden Sie das Suchfeld in der Navigationsleiste, um für SOAP die Verfügbarkeit von Eintrittskarten zu prüfen.
London
Box Office

Versprechen
Bei der Buchung Ihre Sitze auswählen
Sichere Online-Reservierungen
100% garantierte Lieferung des Ticket
Keine versteckten Gebühren.

Theater Adresse
The Spiegeltent
Jubilee Gardens, off Belvedere Road, London, SE1 8XX GB