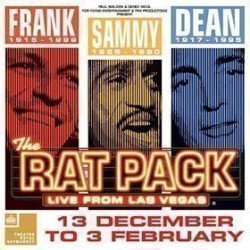 Christmas with the Rat Pack
Theatre Royal Haymarket
Buchung von: Mittwoch, 13 Dezember 2017
Buchung bis: Samstag, 6 Januar 2018
Eintrittskarten
ab 16,99€
Eintrittskarten

buchen
Vorstellungszeiten
Mon
Tue
Wed
Thu
Fri
Sat
Sun
15:00
15:00
19:30
19:30
19:30
19:30
19:30
19:30
Buchung von:
Mittwoch, 13 Dezember 2017
Buchung bis:
Samstag, 6 Januar 2018
Erleben Sie Christmas with the Rat Pack in London! Mit uns können Sie 700ei Karten für 0 sparen! Wenn Sie nach günstigen Theaterkarten suchen - beachten Sie unten unsere aktuellen Angebote für 0 im Theatre Royal Haymarket.
1

Keine Buchungsgebühren

Eintrittskarten

ab 16,99€
Valid on all performances 13 Dec 2017 to 03 Feb 2018. Book By 31 Oct 2017. 27 Dec to 30 Dec 2017 and 19 Dec 2017.
Kundenbewertung
Zu Erwarten:
Darstellung:
Musik:
Kostüme:
Geschichte:
Beleuchtung:
Empfohlen für:
Allen:
Familien:
Jugendliche:
Paare:
Theaterbesucher:
Nach 10 Bewertungen
Verwenden Sie das Suchfeld in der Navigationsleiste, um für Christmas with the Rat Pack die Verfügbarkeit von Eintrittskarten zu prüfen.
London
Box Office

Versprechen
Bei der Buchung Ihre Sitze auswählen
Sichere Online-Reservierungen
100% garantierte Lieferung des Ticket
Keine versteckten Gebühren.

Theater Adresse
Theatre Royal Haymarket
8 Haymarket, London, SW1Y 4HT GB
Gelegenheit
Luftgekühlt
Bar
Behindertengerechte Toiletten
Infrarot-Kopfhörer (Hörschleife)
Mitglied des
Toiletten
Rollstuhlzugang
Theater Info
Kapazität: 880
Gebaut in: 1720
Nächste Aufführungen