Ambassadors Theatre
West Street, London, WC2H 9ND GB
Jetzt läuft im
Ambassadors Theatre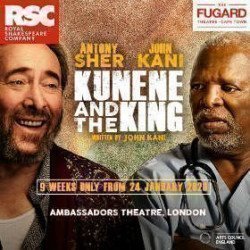 Kunene and the King
Ambassadors Theatre
4,5/5
-

Nach

4

Bewertungen - (Bewertungen)
4,5

4

Bewertungen
Eintrittskarten

ab 35,49€
Kunene and the King, a Royal Shakespeare Company co-production with The Fugard Theatre, is now playing in the West End following its premiere in Stratford-upon-Avon and a sold-out run in Cape Town last year. Don't miss your chance to catch South African actor, activist and playwright John Kani's highly-acclaimed play, directed by Janice Honeyman, as it plays in London for a strictly limited run.
Buchung bis: Samstag, 28. März 2020
Dauer: 1 Hour and 36 Minutes
Kunene and the King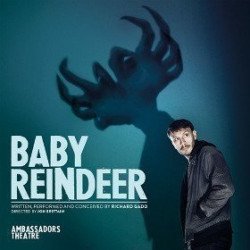 Baby Reindeer
Ambassadors Theatre
Eintrittskarten

ab 21,49€
When award-winning comedian Richard Gadd offers a stranger a free cup of tea, he has no sense of the nightmare to come. One act of kindness. Six years of torment.
The sell-out smash hit of last year's Edinburgh Fringe, Baby Reindeer is the "blistering" debut play (Telegraph) from Richard Gadd (Monkey See Monkey Do, Netflix's 'Sex Education'). Directed by Olivier Award-winner Jon Brittain (Rotterdam), this is a chilling personal account of compulsion, delusion and obsession. Some admirers simply won't be shaken off. "A haunted, haunting hour." (The Guardian)
Buchung von: Donnerstag, 2. April 2020
Buchung bis: Samstag, 2. Mai 2020
Dauer: 65 Minutes
Baby Reindeer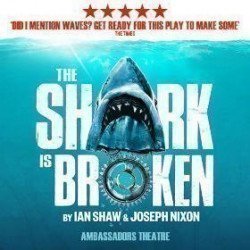 The Shark Is Broken
Ambassadors Theatre
Eintrittskarten

ab 21,49€
Cape Cod, 1974: shooting on JAWS has stalled. The film's lead actors – Robert Shaw, Roy Scheider and Richard Dreyfuss – are stuck on a boat, frustrated by foul weather and a faulty mechanical co-star. Awash with alcohol and ambition, three great white sharks start to bare their teeth… 
The Shark is Broken reveals the hilarious behind-the-scenes drama on one of Hollywood's biggest blockbusters. 
Sonia Friedman Productions is delighted to announce its second production at the Ambassadors Theatre in 2020. After a sell-out, critically acclaimed premiere at the 2019 Edinburgh Fringe, Ian Shaw and Joseph Nixon's brilliantly funny play will arrive in the West End from 11th May.
Buchung von: Montag, 11. Mai 2020
Buchung bis: Samstag, 18. Juli 2020
The Shark Is Broken
Ausstattung Ambassadors Theatre
Klimatisiert
Bar
Induktive Höranlage
Mitglied des Q-Park-Programms
Toiletten
Barrierefreie Tickets für das Ambassadors Theatre
Zuschauer mit Behinderungen und deren Begleitpersonen können ermäßigte Tickets erhalten. Bitte kontaktieren Sie den Service für Barrierefreiheit des Ambassadors Theatre unter 020 7395 5405.
Ambassadors Theatre Standort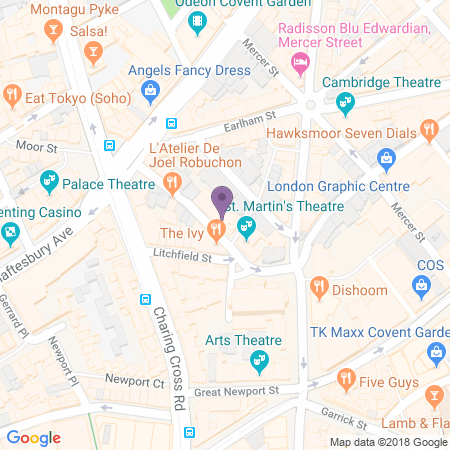 Wegbeschreibung
Reiseinformationen
Nächste U-Bahn-Station
Leicester Square

Covent Garden
Nächster Bahnhof
Busse
(Charing Cross Road) 14, 19, 38, 24, 29, 176
Nachtbusse
(Charing Cross Road) 14, 24, 176, N5, N19, N29, N38, N41, N279