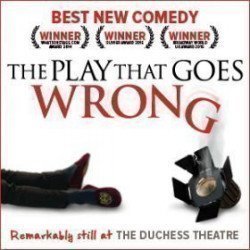 The Play That Goes Wrong
Duchess Theatre
Buchung bis: Sunday, 27 October 2019
Laufzeit: 2 hours 5 minutes
Eintrittskarten
ab 22.49€
Eintrittskarten

buchen
Pressespiegel
A masterpiece of malfunction The Times
It's as though The Mousetrap has been taken over by Monty Python What's On Stage
I feared I was going to hyperventilate Daily Mail
Kundenbewertung
Zu Erwarten:
Darstellung
Musik
Kostüme
Geschichte
Beleuchtung
Empfohlen für:
Allen
Familien
Jugendliche
Paare
Theaterbesucher
Nach 1057 Bewertungen
sehr, sehr lustig!
Sascha London Box Office Kunden
lustig
Was kann alles fehl gehen bei einer Theatervorstellung? Zum heisser lachen lustig, niemand nimmt sich ernst und das Publikum ist schon beim Platz einnehmen voll dabei. Leider zu kurz in London um auch die andere shows zu sehen.
Sigrid London Box Office Kunden
.Super
Wir haben gleich von Anfang an gelacht und bis zum Schluss kamen wir aus dem Lachen nicht mehr heraus. Es war auch unvorhersehbar was passieren würden, sehr gut gemacht.
Patricia London Box Office Kunden
Wer Slapstick mag und schrägen Humor, ist hier gut aufgehoben.
Man darf hier keine ausgefeilten Dialoge erwarten, aber wer mal wieder lachen will, sollte hingehen.
Katja London Box Office Kunden
One of the funniest plays ever!
Very funny story, great acting, audience participation.
Christopher London Box Office Kunden
extremely bad too exaggerated
Die show war extrem uebertrieben die story nichtssagend und einfach gemacht ausserdem hat sivh der inhalt wiederholt
Anonym
Awesome Play With brillant Comedy Timing
Anonym
Verwenden Sie das Suchfeld in der Navigationsleiste, um für The Play That Goes Wrong die Verfügbarkeit von Eintrittskarten zu prüfen.
London
Box Office

Versprechen
Bei der Buchung Ihre Sitze auswählen
Sichere Online-Reservierungen
100% garantierte Lieferung des Ticket
Keine versteckten Gebühren.

Theater Adresse
Duchess Theatre
3-5 Catherine Street, London, WC2B 5LA GB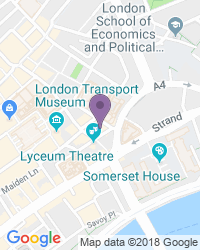 Gelegenheit
Bar
Behindertengerechte Toiletten
Infrarot-Kopfhörer (Hörschleife)
Mitglied des
Toiletten
Rollstuhlzugang
Theater Info
Kapazität: 475
Gebaut in: 1929
Nächste Aufführungen