2 Queen Caroline Street, London, W6 9QH GB
Das Wichtigste in Kürze
Wir bieten die größte Auswahl an Tickets im West End
Sitzplatzreservierung mit Belegung in Echtzeit
Sitzplätze auswählen
Ihre Reservierung wird sofort und automatisch im System von London Box Office bearbeitet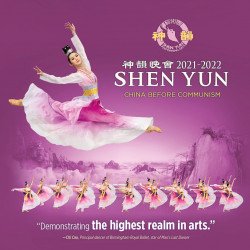 Shen Yun
3,5/5
-

Nach

33

Bewertungen
Buchung bis: Dienstag, 31. Mai 2022
Eintrittskarten

ab 105,99€
Karten buchen
Informationen
Sonderangebote
Bewertungen
Mehr zu Shen Yun
Vorstellungen
Buchung bis: Dienstag, 31. Mai 2022
Shen Yun Beschreibung
Experience The Beauty of Ancient China Before Communism
Shen Yun takes you on an extraordinary journey through China's 5,000 years of divinely inspired culture. 
Exquisite beauty from the heavens, profound wisdom from dynasties past, timeless legends and ethnic traditions all spring to life through classical Chinese dance, enchanting live orchestral music, authentic costumes, and patented interactive backdrops. Revisit a time when scholars and artists sought harmony with the Tao, or the "Way" of the universe, and when divine beings walked upon the earth to inspire humanity.
Join us for a night filled with courage and wisdom, light and hope... Experience Shen Yun! 
Günstige Shen Yun Eintrittskarten
Erleben Sie Shen Yun in London! Mit uns können Sie 700ei Karten für Shen Yun sparen! Wenn Sie nach günstigen Theaterkarten suchen - beachten Sie unten unsere aktuellen Angebote für Shen Yun im Hammersmith Apollo (Eventim).
Derzeit sind keine Sonderangebote verfügbar, aber wir haben immer noch tolle Ticketpreise für Shen Yun im Hammersmith Apollo (Eventim).