3 Fulton Road, Wembley, London, HA9 8TS GB
Das Wichtigste in Kürze
Wir bieten die größte Auswahl an Tickets im West End
Sitzplatzreservierung mit Belegung in Echtzeit
Sitzplätze auswählen
Ihre Reservierung wird sofort und automatisch im System von London Box Office bearbeitet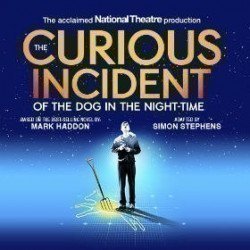 The Curious Incident of the Dog in the Night-Time
4,7/5
-

Nach

486

Bewertungen
Buchung von: Freitag, 1. Januar 2021
Buchung bis: Sonntag, 10. Januar 2021
Dauer: 2 hours 30 minutes
Eintrittskarten

ab 23,99€
Karten buchen
Informationen
Bewertungen
Mehr zu The Curious Incident of the Dog in the Night-Time
Altersbeschränkung
Altersempfehlung: ab 13 Jahren
Wichtige Informationen
This production contains strobe lighting, smoke effects, high intensity video & light effects, and loud sound effects. Suitable for 11yrs+
There is some strong language in this production, as there is in the novel. This occurs at the very beginning of the show and infrequently at other points during the show.
Latecomers will be asked to wait whilst watching the latecomers' monitor until a scene called 'The Street' before being allowed into the auditorium. This is approximately 15 minutes into Act 1. Audience members arriving after this time will be required to wait until the interval.
Vorstellungen
Buchung von: Freitag, 1. Januar 2021
Buchung bis: Sonntag, 10. Januar 2021
Dauer: 2 hours 30 minutes
The Curious Incident of the Dog in the Night-Time Beschreibung
The Daily Mail, Daily Telegraph, Evening Standard, Guardian, Independent, The Times, Time Out, Londonist, Sunday Times und viele weitere gaben dem hervorragenden Stück sämtliche Daumen nachoben. Es wurde unter anderem als "Wunderwerk","als Erfolg in jeglicher Hinsicht" und schlichtweg als "Triumph" bezeichnet. Das Stück bewahrt die Eigenart und Tiefe des Originaltexts und fügt theatralische Feinheiten mit großer Wirkung hinzu.
Die Regisseurin Marianne Elliott erhielt von allen Seiten wohlverdientes Lob dafür, dass sie wieder einmal ihren bemerkenswert kreativen Flair und Stil einbrachte, wie in ihrer Rolle als Co-Regisseurin des Puppenstücks War Horse, das sich ebenfalls als großerErfolg entpuppte. Sie dürfen von Supergute Tage oder die sonderbare Welt des Christopher Boone das gleiche Level an Qualität erwarten. Oder wie es The Times ausdrückte: "Wenn es jemals eine perfekte theatralische Vereinigung von Performance und Effekt gab, dann diese hier.".
Nächste Vorstellungen von The Curious Incident of the Dog in the Night-Time im Troubadour Theatre - Wembley
The Curious Incident of the Dog in the Night-Time Zuschauerbewertungen
4,7 von 5
Nach

486

Bewertungen
Was Sie erwartet:
Darstellung
Musik
Kostüme
Geschichte
Beleuchtung
Empfohlen für:
Alle (67%)
Familien (71%)
Jugendliche (87%)
Paare (87%)
Theaterbesucher (95%)
Letzte Kundenrezensionen

Einfach beeindruckend!
Bewertet am 06 September 2016 von Neris, Perchtoldsdorf, Austria

Sehr kreativ und unterhaltsam
Bewertet am 05 August 2016 von Karin, Münster, Germany