Noel Coward Theatre
85-88 St Martin's Lane, London, WC2N 4AU GB
Jetzt läuft im
Noel Coward Theatre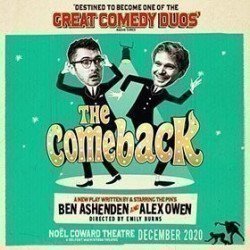 The Comeback
Noel Coward Theatre
Eintrittskarten

ab 13,49€
The Comeback, a brilliantly original and hilarious new comedy, is set to delight all generations at the Noel Coward Theatre this December. This debut play from The Pin's award-winning Ben Ashenden and Alex Owen – 'destined to become one of the great comedy duos' (Radio Times) – tells the story of two double acts fighting to wrestle control of the most chaotic, farcical and high-stakes gig of their respective careers. Directed by Emily Burns, The Comeback will have audiences doubled over laughing and wiping a tear away at the end with its heart-warming exploration of bittersweet nostalgia and the enduring power of friendship. This show is a much needed dose of feel-good, dizzying escapism with real emotional heart, and a celebrity guest each night to boot.
Buchung von: Dienstag, 8. Dezember 2020
Buchung bis: Sonntag, 3. Januar 2021
Dauer: 1 hour 25 minutes (no interval)
The Comeback
Ausstattung Noel Coward Theatre
Klimatisiert
Bar
Behindertengerechte Toiletten
Induktive Höranlage
Mitglied des Q-Park-Programms
Toiletten
Rollstuhlzugang
Barrierefreie Tickets für das Noel Coward Theatre
Zuschauer mit Behinderungen und deren Begleitpersonen können ermäßigte Tickets erhalten. Bitte kontaktieren Sie den Service für Barrierefreiheit des Noel Coward Theatre unter 034 4482 5137.
Noel Coward Theatre Standort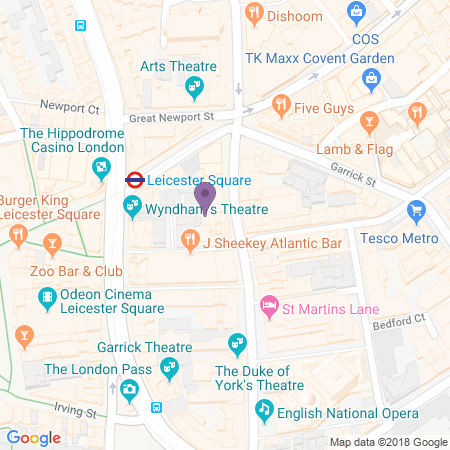 Wegbeschreibung
Reiseinformationen
Nächste U-Bahn-Station
Leicester Square

Covent Garden
Nächster Bahnhof
Busse
(Charing Cross) 24, 29, 176; (Strand) 6, 9, 11, 13, 15, 23, 87, 91, 139
Nachtbusse
(Charing Cross) 24, 176, N5, N20, N29, N41, N279; (Strand) 6, 23, 139, N9, N15, N11, N13, N21, N26, N44, N47, N87, N89, N91, N155, N343, N551