Wyndham's Theatre
32-36 Charing Cross Road, London, WC2H 0DA GB
Jetzt läuft im
Wyndham's Theatre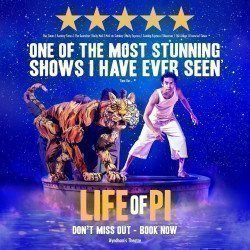 offen
The Life of Pi
Wyndham's Theatre
4,8/5
-

Nach

74

Bewertungen - (Bewertungen)
4,8

74

Bewertungen
Eintrittskarten

ab 21,49€
Familien (89%)
Paare (96%)
Theaterbesucher (95%)
i
After a cargo ship sinks in the middle of the vast Pacific Ocean, a sixteen year-old boy named Pi is stranded on a lifeboat with four other survivors - a hyena, a zebra, an orangutan, and a Royal Bengal tiger. Time is against them, nature is harsh, who will survive? Winner of 5 Olivier Awards, including 'Best New Play', Life of Pi is based on one of the most extraordinary and best-loved works of fiction – the smash hit adaptation of an epic journey of endurance and hope.
Buchung bis: Sonntag, 30. Oktober 2022
The Life of Pi
Ausstattung Wyndham's Theatre
Klimatisiert
Bar
Behindertengerechte Toiletten
Induktive Höranlage
Mitglied des Q-Park-Programms
Toiletten
Rollstuhlzugang
Barrierefreie Tickets für das Wyndham's Theatre
Zuschauer mit Behinderungen und deren Begleitpersonen können ermäßigte Tickets erhalten. Bitte kontaktieren Sie den Service für Barrierefreiheit des Wyndham's Theatre unter 034 4482 5137.
Wyndham's Theatre Standort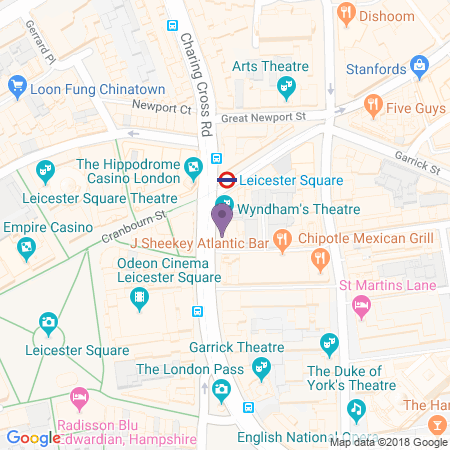 Wegbeschreibung
Reiseinformationen
Nächste U-Bahn-Station
Leicester Square

Covent Garden
Nächster Bahnhof
Busse
(Charing Cross Road) 24, 29, 176; (Shaftesbury Avenue) 14, 19, 38
Nachtbusse
(Charing Cross Road) 24, 176, N5, N20, N29, N41, N279; (Shaftesbury Avenue) 14, N19, N38