Gielgud Theatre
35-37 Shaftesbury Avenue, London, W1D 6AR GB
Jetzt läuft im
Gielgud Theatre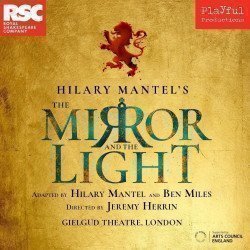 Öffnet am 23 Sep 2021
Öffnet am 23 September 2021
The Mirror and the Light
Gielgud Theatre
Eintrittskarten

ab 21,49€
Playful Productions and the RSC bring The Mirror and the Light, the highly anticipated final chapter of Hilary Mantel's WOLF HALL TRILOGY, to the West End this September.
Buchung von: Donnerstag, 23. September 2021
Buchung bis: Sonntag, 23. Januar 2022
Dauer: 2 hours 30 minutes (one interval)
The Mirror and the Light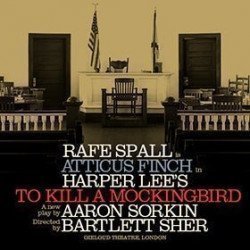 Öffnet am 10 Mär 2022
Öffnet am 10 März 2022
To Kill A Mockingbird
Gielgud Theatre
Eintrittskarten

ab 35,49€
★★★★★
"All rise for the miracle that is 'Mockingbird'. Unmissable and unforgettable. An American classic" - Rolling Stone, Peter Travers
Rafe Spall will play Atticus Finch in TO KILL A MOCKINGBIRD, Aaron Sorkin's new play based on Harper Lee's Pulitzer Prize-winning novel, directed by Bartlett Sher, which opens at the Gielgud Theatre in March 2022.
Harper Lee's enduring story of racial injustice and childhood innocence has sold 45 million copies worldwide. On Broadway the production has not played to an empty seat and has become the most successful American play in Broadway history.
"It will change how you see the world. This is what great theater is for. Aaron Sorkin's 'Mockingbird' is filled with deep compassion and overwhelming humanity. Do not miss it." - NY Post
"A 'Mockingbird' for our moment. Beautiful, elegiac, satisfying, even exhilarating" - New York Times
Buchung von: Donnerstag, 10. März 2022
Buchung bis: Samstag, 13. August 2022
Dauer: 2 hours 35 minutes (One interval)
In der Hauptrolle: Rhys Ifans
To Kill A Mockingbird
Ausstattung Gielgud Theatre
Luftgekühlt
Bar
Behindertengerechte Toiletten
Induktive Höranlage
Mitglied des Q-Park-Programms
Toiletten
Rollstuhlzugang
Barrierefreie Tickets für das Gielgud Theatre
Zuschauer mit Behinderungen und deren Begleitpersonen können ermäßigte Tickets erhalten. Bitte kontaktieren Sie den Service für Barrierefreiheit des Gielgud Theatre unter 034 4482 5137.
Gielgud Theatre Standort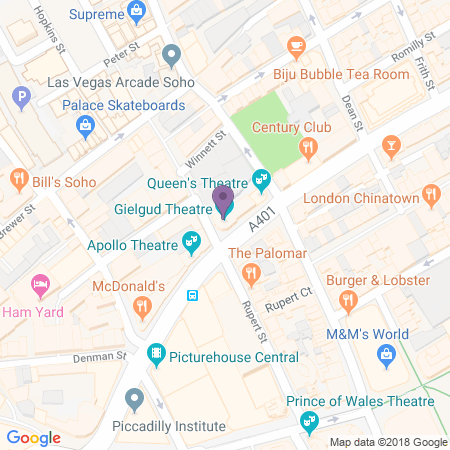 Wegbeschreibung
Reiseinformationen
Nächste U-Bahn-Station
Piccadilly Circus

Leicester Square
Nächster Bahnhof
U-Bahn-Linien
Bakerloo
Piccadilly
Northern
Busse
(Shaftesbury Avenue) 12, 14, 19, 38; (Regent Street) 6, 13, 15, 23, 88, 94, 139, 159, 453
Nachtbusse
(Shaftesbury Avenue) 14, N19, N38; (Regent Street) 6, 12, 23, 88, 94, 139, 159, 453, N3, N13, N15, N109, N18, N136