Bald nicht mehr im Programm
Mit unserer Hilfe genießen Sie die besten Shows in London für wenig Geld. Wir bieten viele Tickets zu günstigen Preisen und sind ein vertrauenswürdiger Begleiter für tolle Abende in der Londoner Theaterwelt mit Top-Musicals, Komödien, zeitgenössischem und traditionellem Tanz, Oper und vielem mehr. Wir bieten Tickets für kinder- und familiengerechte Shows, die die ganze Familie begeistern, dramatische Shows für Erwachsene, West End-Vorstellungen von Favoriten, die das Publikum seit Jahren begeistern, prominent besetzte Comedy-Shows, Musicals und heitere Komödien. Wir bringen Sie auch mit unseren Preisen zum Lächeln.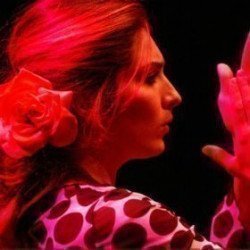 Estrella Morente
Sadlers Wells
Heiress to one of Spain's greatest singing dynasties, Estrella Morente represents a passionate new voice in flamenco, applying a fresh new take on the Andalusian tradition. She is joined on stage by another notable flamenco legacy, Enrique Morente Carbonell, whose youthful influence on modern flamenco brings with it a unique collaboration.  
Buchung von: Sonntag, 5. Juli 2020
Buchung bis: Sonntag, 5. Juli 2020
Estrella Morente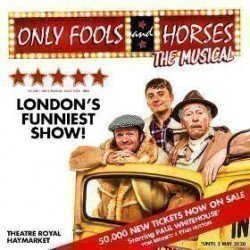 Only Fools and Horses
Theatre Royal Haymarket
4,7/5
-

Nach

106

Bewertungen - (Bewertungen)
4,7

106

Bewertungen
Eintrittskarten

ab 26,99€
Familien (85%)
Paare (89%)
Theaterbesucher (92%)
i
Only Fools and Horses the Musical brings the iconic and much-loved comedy to life once more, through an ingenious and hilarious original score. Written by Paul Whitehouse and Jim Sullivan, fully endorsed by the Sullivan estate.
Sound CUSHTY?  Then book your tickets today - Only a forty-two carat PLONKER would miss it!
Buchung bis: Samstag, 27. Juni 2020
Dauer: 2 hours 30 minutes
In der Hauptrolle: Paul Whitehouse, Ryan Hutton, Tom Bennett
Only Fools and Horses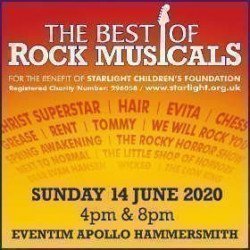 The Best Of...Rock Musicals
Hammersmith Apollo (Eventim)
5/5
-

Nach

2

Bewertungen - (Bewertungen)
5

2

Bewertungen
Eintrittskarten

ab 26,99€
On Sunday June 14, 2020 at London's Eventim Apollo, Hammersmith, there will be two stellar concerts of The Best of Rock Musicals for the benefit of the Starlight Children's Foundation.  It will be the 21st Anniversary production from the same team who have presented The Night of 1000 Voices at the Royal Albert Hall and elsewhere.
In 2020, The Best of Rock Musicals will again feature New York's Adam Pascal (Rent); Europe's Kristina Love (Tina), Elvie Ellis (The Little Shop of Horrors), Sabrina Weckerlin (Wicked), Christian Lund (The Phantom of the Opera) and David Michael Johnson (Jesus Christ Superstar); and London's Kerry Ellis (Wicked), Ricardo Afonso (Jesus Christ Superstar) and Debbie Kurup (The Prince of Egypt) together with a host of young Broadway and West End talent, the West End Chorus, the City of London Philharmonic All Stars. 
More artistes are to be announced.
Buchung von: Sonntag, 14. Juni 2020
Buchung bis: Sonntag, 14. Juni 2020
The Best Of...Rock Musicals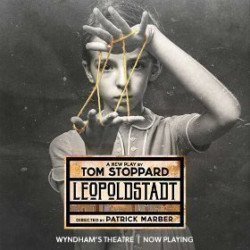 Leopoldstadt
Wyndham's Theatre
4,1/5
-

Nach

7

Bewertungen - (Bewertungen)
4,1

7

Bewertungen
Eintrittskarten

ab 26,99€
Vienna in 1900 was the most vibrant city in Europe, humming with artistic and intellectual excitement and a genius for enjoying life. A tenth of the population were Jews. A generation earlier they had been granted full civil rights by the Emperor, Franz Josef. Consequently, hundreds of thousands had fled from the Pale and the pogroms in the East and many found sanctuary in the crowded tenements of the old Jewish quarter, Leopoldstadt.
It was not to last. Half a century later, this family, like millions of others, has re-discovered what it means to be Jewish in the first half of the 20th century.
LEOPOLDSTADT is a passionate drama of love, family and endurance. It is Stoppard's most humane and heart-breaking play.
Buchung bis: Samstag, 13. Juni 2020
Leopoldstadt
Cirque du Soleil - Corteo (O2 Arena)
O2 Arena
Eintrittskarten

ab 49,49€
The clown Mauro has passed, but his spirit is still with us. Instead of mourning, the funeral cortege celebrates the here and hereafter with laughter and exuberance. Rich, extravagant memories frolic with the senses. The sound of laughter peals around the stage, visions of joyous tumblers and players fascinate the eyes. Regret and melancholy retreat in the face of a cavalcade of lively recollections of a life gloriously lived. A festive parade that entertains; the perfect accolade for an artist whose life was dedicated to revelry and making merry.
Buchung von: Mittwoch, 24. Juni 2020
Buchung bis: Sonntag, 5. Juli 2020
Läuft jetzt im: O2 Arena
Buchung bis: Sonntag, 5. Juli 2020
Cirque du Soleil - Corteo (O2 Arena)
Warum Sie Ihre Tickets bei London Box Office bestellen sollten
Mitglied bei STAR (Secure Tickets from Authorised Retailers)

All unsere Tickets entsprechen den Bestimmungen der Society of Ticket Agents and Retailers (STAR), die den Verkauf von Tickets durch zugelassene Verkaufsstellen sicherstellt. Unsere Buchungsplattform wird durch ein SSL-Sicherheitssystem geschützt und ist jederzeit verfügbar.

Dynamische Sitzplatzreservierung

Für die meisten West End-Theater bieten wir eine dynamische Sitzplatzreservierung an, damit Sie noch leichter Ihren Lieblingsplatz finden.

Sofortige Bestätigung

Ihre Reservierung wird in Echtzeit vom Theater bestätigt. Zeigen Sie die Bestätigung einfach über Ihr Mobiltelefon am Schalter des Theaters vor, um die Tickets am Tag der Vorstellung zu erhalten.