Bald nicht mehr im Programm
Mit unserer Hilfe genießen Sie die besten Shows in London für wenig Geld. Wir bieten viele Tickets zu günstigen Preisen und sind ein vertrauenswürdiger Begleiter für tolle Abende in der Londoner Theaterwelt mit Top-Musicals, Komödien, zeitgenössischem und traditionellem Tanz, Oper und vielem mehr. Wir bieten Tickets für kinder- und familiengerechte Shows, die die ganze Familie begeistern, dramatische Shows für Erwachsene, West End-Vorstellungen von Favoriten, die das Publikum seit Jahren begeistern, prominent besetzte Comedy-Shows, Musicals und heitere Komödien. Wir bringen Sie auch mit unseren Preisen zum Lächeln.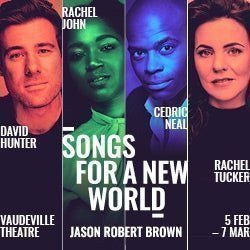 Öffnet am 12 Feb 2021
Öffnet am 12 Februar 2021
Songs for a New World
Vaudeville Theatre
Eintrittskarten

ab 27,49€
It's about one moment. It's about hitting the wall and having to make a choice… or take a stand… or turn around and go back. These are the stories and characters of today, the Songs for a New World. Starring David Hunter (Waitress), Rachel John (Hamilton), Cedric Neal (Motown The Musical) and Rachel Tucker (Come From Away), and Shem Omari James (Songs For a New World) this is the first musical from Tony Award winner, Jason Robert Brown (The Last Five Years, Parade, Bridges of Madison County). This moving collection of powerful songs examines life, love and the choices that we make.
Buchung von: Freitag, 12. Februar 2021
Buchung bis: Sonntag, 7. März 2021
Dauer: 2 hours 30 minutes (One interval)
Songs for a New World
Mischief Movie Night
Vaudeville Theatre
Eintrittskarten

ab 29,49€
Mischief Theatre return to their comedy roots with Mischief Movie Night, the improvised movie live on stage! Starring them, directed by you, Mischief Movie Night is a guaranteed comedy blockbuster!
Buchung bis: Sonntag, 31. Januar 2021
Dauer: 1 hour
Mischief Movie Night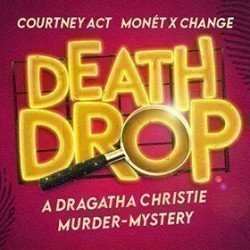 Öffnet am 28 Jan 2021
Öffnet am 28 Januar 2021
Death Drop
Garrick Theatre
Eintrittskarten

ab 26,99€
A Dragatha Christie Murder-Mystery 
Murder can be such a Drag. 
Starring RuPaul's Drag Race superstars Courtney Act and Monét X Change, this brand-new comedy is an historic West End first bringing together a full cast of leading drag performers, in a hilarious murder mystery like nothing you've ever seen before. 
It's 1991 and a gaggle of guests gather on Tuck Island for a soirée like no other. The tension rises as the outrageous guests reveal their suspicious and sordid pasts, and one by one they sashay away, until at the last, nerve-shredding, side-splitting moment the surviving guests find out who-dunnit!
This rampant, raucous, ridiculous romp of a murder mystery has gallons of gags, and more twists and turns than a drag queens wig. 
Written by Holly Stars
Based on an idea by Christopher D. Clegg 
Buchung von: Donnerstag, 28. Januar 2021
Buchung bis: Sonntag, 21. Februar 2021
Death Drop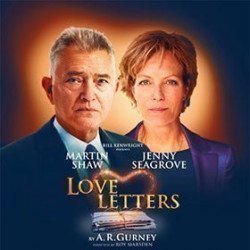 Love Letters
Theatre Royal Haymarket
Eintrittskarten

ab 28,99€
Buchung bis: Sonntag, 7. Februar 2021
Dauer: 2 hours (one interval)
In der Hauptrolle: Jenny Seagrove, Martin Shaw
Love Letters
Warum Sie Ihre Tickets bei London Box Office bestellen sollten
Mitglied bei STAR (Secure Tickets from Authorised Retailers)

All unsere Tickets entsprechen den Bestimmungen der Society of Ticket Agents and Retailers (STAR), die den Verkauf von Tickets durch zugelassene Verkaufsstellen sicherstellt. Unsere Buchungsplattform wird durch ein SSL-Sicherheitssystem geschützt und ist jederzeit verfügbar.

Dynamische Sitzplatzreservierung

Für die meisten West End-Theater bieten wir eine dynamische Sitzplatzreservierung an, damit Sie noch leichter Ihren Lieblingsplatz finden.

Sofortige Bestätigung

Ihre Reservierung wird in Echtzeit vom Theater bestätigt. Zeigen Sie die Bestätigung einfach über Ihr Mobiltelefon am Schalter des Theaters vor, um die Tickets am Tag der Vorstellung zu erhalten.